Comentários do Hotel ILUNION Bilbao

9.5

Limpeza

9.2

Serviços

9.4

Localização

9.4

Pessoal

8.5

Preço
9.2
Excelente
Avaliações baseadas nos comentários dos nossos clientes após a sua visita.
Comentários verificados
Acrescentar um comentário
Portugal

Vamos voltar, gostamos muito.

Portugal

Hotel muito original

United States

I had a wonderful stay at this hotel and was very thankful for the front desk staff. They were helpful in telling me how to catch the local transportation and even printed out my boarding pass. All around a great experience. I would have liked a few channels on the television in English. that would have made my stay amazing.

Belgium

We stayed for 4 nights in the hotel. The location was good, close to the bus station.The hotel is modern and clean and the breakfast was good. We booked our room directly via the website of the hotel and we asked for a room with two separate beds (we wrote this in Spanish). We got a room on an upper floor with an amazing view but unfortunately with a double bed. We returned to the reception and they gave us another room (109) on the first floor. Two single beds here but a lot of noise during the night. We have been awaken several times at night due to the horrendous bass noise from the neighbouring club and the noise of a washing machine in the laundry room in front of our room. That was a dissappointment. The Housekeeping staff were super friendly and always said hello as you went past. The welcome from reception could be much better.

Holland

heel goed hotel met goede service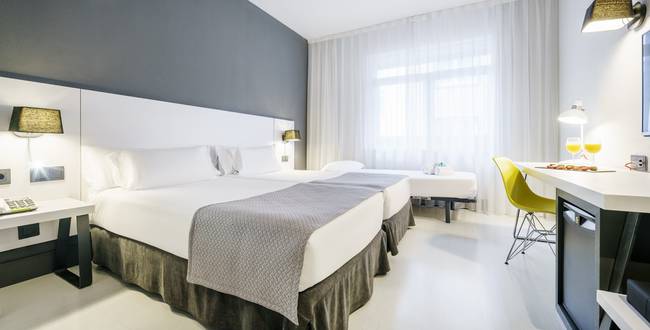 FOTOGRAFIAS DO HOTEL ILUNION BILBAU CENTRO
Para ajudar outros utilizadores, deixe os seus comentários e opiniões sobre o Hotel ILUNION Bilbau. Partilhando a sua experiência, oferece uma ideia do nosso alojamento e eventos a outras pessoas.